5 Great Site Induction Training Examples & ELearning Systems
Want an engaging, clear and concise training system for your employees? We've rounded up some of our favourite eLearning and site induction training examples and picked out some key features. From low-cost audio and simple infographics to immersive scenarios, adaptive content, toolbox talks, competency frameworks and more, there's bound to be something in this list that inspires your business to do something a bit different next year. We hope you get inspired with our induction training examples.
5 Great ELearning & Site Induction Examples:
QGC: Site specific induction training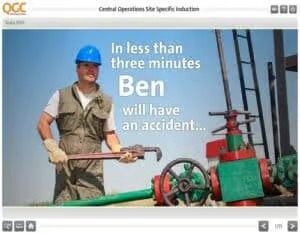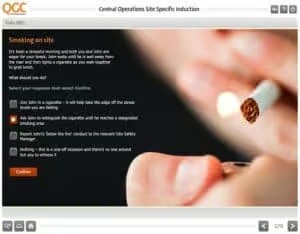 Australian gas company, QCG, created this online induction to train employees on site-specific issues. This is simple and effective in getting its message across, and is therefore a great induction training example.
Features we like:
A good example of a bite-size learning module.
Fullscreen high-quality background images provide immediately recognisable contexts for the learners.
Uses plain English to convey key messages. Learners aren't distracted by complex terminology.
Inter Terminals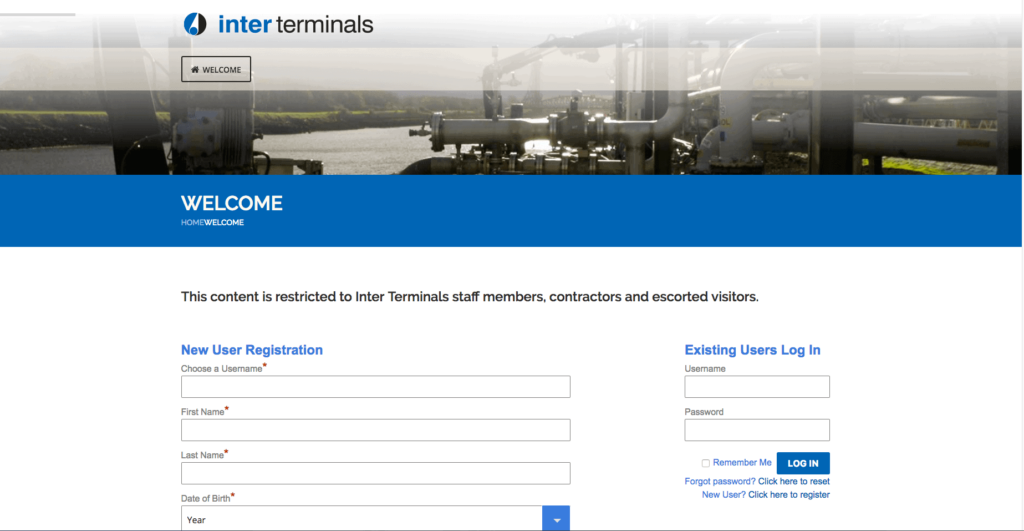 This site induction example training video takes place in a virtual studio with a main presenter guiding the inductee through the training processes. We created this online induction for Inter Terminals to train employees on site-specific health and safety procedures.
Why we like it:
Virtual environments and online video content have been created to lead the training.
System is fully interactive.
Trainees are rewarded with certifications on successfully completing a segment.
The system has administration, user setup and management.
Reporting and management information.
Employees can access the portal for induction training before they start on the job.
Content can be accessed from a range of devices.
OPA
This advanced online induction system is a great example of what higher end bespoke induction systems and Elearning systems can do. The multi sited installation for OPA uses our bespoke hardware options and software expansion packages including integrated ID card scanners & printers.
Why we like this site induction training example:
ID card software has multiple functions; site security, safety and storing personal training record data.
Well structured use of additional content; competency frameworks, toolbox talks, task checkers, induction and eLearning modules.
Full administrator's dashboard functionality, complete with inductee search functions, results monitoring and troubleshooting guides.
Easy to understand multiple choice Q&A pages lead by video modules.
Works seamlessly across devices.
The site induction training example has a clear structure, making it easy for users to navigate.
 Bright and bold visual design, simple interface.
Connect Group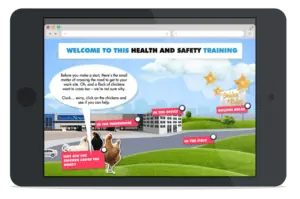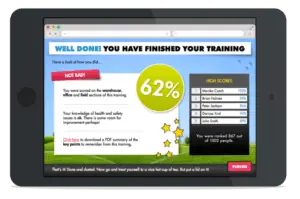 The Golden Rules Elearning course, replaces 20,000 words of written material with engaging interactive content. We like the combination of humour and gamification to encourage learners to interact with the content.
Why we like it:
Immersive and engaging approach in order to create memorable learning experience.
Good use of humour, games, leaderboards and strong visual design to grab attention and motivate learners to interact with the course.
Responsive, mobile-friendly design
Tesco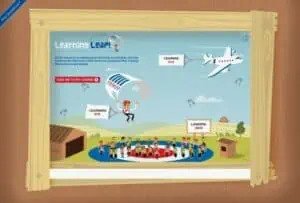 This solution is an example of using previous course data and feedback to help design a new and improved programme.
Why we like it:
Uses a fun and easy to understand narrative.
Utilizes gaming techniques such as real-time, animated leaderboards showing the number of learners at each stage of the training.
The first finishers get a reward and line managers receive weekly emails telling them how well their team is doing.
Once the main Elearning is completed, staff receive bi-monthly emails, known as 'PiPs' or 'Putting into Practice'; micro-learning quizzes related to the course topics, linked to web pages containing feedback and job aids to help reinforce the learning and provide an opportunity for people to put their training into practice.
If this round-up of site induction examples has inspired you to try something new with your training systems, or if you'd like specialist guidance on how site Inductions & Elearning systems can benefit your company. Then contact our friendly team for a no obligation chat.