Turnstyle Induction Systems
TurnStyle Inductions
Get staff and visitors fully health & safety compliant and on the job faster with our breakthrough turnkey Induction Systems.
The Benefits
Keep your workforce safe, compliant and productive with our revolutionary workplace health and safety Induction Systems.
Hardware Solutions
We provide a variety of factory standard and custom built hardware options. Designed to work in harmony with your system.
Features
Our TurnStyle induction systems are designed to link up all aspects of the induction process in the simplest way possible.
Value
Suitable for all businesses and budgets, Turnstyle Induction Systems offer a fully compliant, ready to go, low cost solution.
Get staff and visitors inducted and on the job faster with turnstyle induction systems.
Suitable for all businesses and budgets, Turnstyle Induction Systems offers a ready to go, fully compliant solution that's tailored to your companies branding and module requirements.
Stage 1
An invite to complete an induction can be sent to the visitor prior to arrival or completed whilst on site only.
Stage 2
Site visitor logs onto the induction via the pre visit invite link or by using the bespoke on site induction terminals
Stage 3
The inductee creates a user account, and uploads a photo (if required) and any additional supporting documentation into the system.
Stage 4
The inductee is then presented with the relevant induction module and is ready to watch the training films and answer the module questions.
Stage 5
On successful completion, the system records the result. This data is relayed so that security can see who is allowed on site & issue them with an ID card.
Stage 6
Once security have signed in the site visitor using the system, they are then automatically added to the site manifest.
Stage 7
After the site visit, inductees are signed out using the system and their ID cards returned. The site manifest is automatically updated.
Film based learning followed by questionnaires educate visitors in site health and safety.
Visitor results are recorded for audit and governance purposes.
Built-in Management Dashboard allows you to see who is compliant, who is on-site and whose training has expired.
Our security management modules protect your sites Data & control Site Access.
See a live dashboard of visitors on & off site, who they're visiting and if they're health & safety compliant.
With the Site Manifest you can be confident who is on site in the event of an emergency.
Enable visitors to complete site inductions prior to arrival.
Access to the Management dashboard for designated staff. See who is permitted to be on site and if they have the right documentation.
Allow users to upload necessary accreditation documents, prior to arrival.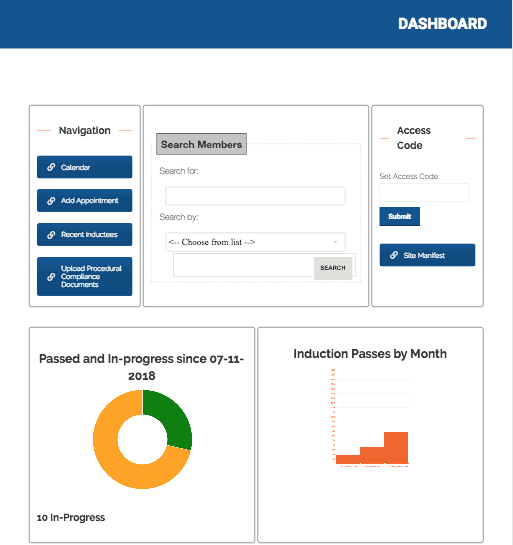 Company Branded Content

Compliance Checkers

Security & Management

Toolbox Talks
All of our systems are made by our own in-house team of experienced creative professionals, producing high quality solutions for a consistent user friendly experience, that deliver results.
Steve Birkett – Training Facilitator , British Steel
I was immediately impressed by their professionalism, available equipment and technical ability to produce an outstanding induction package. Always available to answer any questions and as a result of the work created by Resolution TV, we were nominated to receive an excellence award for the outstanding safety induction package that now leads by example. I strongly recommend Resolution TV for any video or web production work.
Peter Wilkinson – Group Health & Safety Manager , ABP
ABP have worked with Resolution TV for a number of years now. They have produced our group Health & Safety induction which we believe is as good as it gets. The professionalism, attention to detail and output quality is second to none. We will be working with them for many years to come.