Don't become another health and safety statistic
As workplaces begin to open up following the pandemic lockdown (at the time of writing the great return to work had begun) a fresh look at health and safety protocols will be needed. The effects of COVID19 are reaching much further than our personal lives, changing the face of the workplace forever, and any new measures relating to workplace health and safety need adding into risk assessments. The effective communication of any new regime is equally important.
The HSE have recently released the workplace fatality figures for 2019/20 which have been recorded at 111, the lowest on record.   Read this figure with caution as the figure will be influenced by the Coronavirus outbreak since less people were at work in the latter quarter.
Recently the HSE Chief Executive, Sarah Albon, said: "No one should be hurt or killed by the work they do. In these extraordinary times, we have seen many workers risking their lives to help others during the coronavirus outbreak. Although these statistics are not a reflection on COVID-19 related loss of life, it is a pertinent time to reflect.
"Every workplace fatality is a tragedy and while we are encouraged by this improvement, today's statistics is a reminder that we cannot become complacent as we look to continue to work together to make Great Britain an even safer place to live and work."
Fatality by Sector
The greatest number of deaths were recorded in the construction industry, with 40 fatal injuries. This is greater than their annual average over the previous five years.  Agricutural, forestry and fishing experienced 20 fatal injuries, the lowest on record, however this sector still accounts for a large share of the overall figure. Despite being a relatively small sector, the waste and recycling sector still recorded 5 fatalities.
What does this mean?
Sarah Albon's continuing comments highlight the need for improvement in risk management.
: "These statistics remind us that in certain sectors of the economy, fatal injury in the workplace remains worryingly high. Agriculture, forestry and fishing accounts for a small fraction of the workforce of Great Britain, yet accounted for around 20% of worker fatalities in the last year. This is unacceptable and more must be done to prevent such fatalities taking place.
"Work-related deaths fracture families, they shatter communities, and so many of them can be avoided. The work that HSE does is about more than numbers, we are continually working with duty holders to ensure that they assess and appropriately manage risk to their employees. These efforts are a vital part of keeping essential services going, particularly as duty holders adapt to the current circumstances."
What were the main causes of workplace fatalities 2019/20?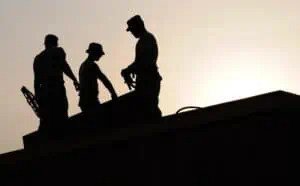 If we look at the three most common causes of a workplace fatality.
Falling from height with 29 attributed deaths. Struck by a moving vehicle had 20 fatalities associated. There were 18 incidents of being struck by a moving object.
Working from the quoted the statistics, these three incidents account for 60% of the overall figure. For those interested the full analysis it can be found on the HSE portal.
Risk assessment will highlight hazards, but the three most common causes are an important element of a Day 1 Health and Safety Induction. Taking that induction online will improve things without a doubt. Having a workforce arriving on site, already having a good understanding of the risks and hazards on that site will help prevent incidents.
How can Online Health and Safety Induction help?
A bespoke online health and safety induction will not only ensure the workforce is up to speed with workplace risks and hazards, it will save time spent in delivering the necessary, but often tedious, face to face inductions. It will mean more time can be spent getting the job done.
It is important to have the confidence that every member of the workforce receive the same clear, concise information. A well created induction offers you complete control over the content. Introducing a new induction system is a good time to include everyone – complacency is an issue, especially with longer term employees. A gentle reminder of workplace hazards will help combat this.
It also means that should an unfortunate incident occur, whether reportable to the HSE or not, you can record that electronically. In the event of an investigation then demonstrating this induction training was completed is simple. Lost files or poorly completed assessments will become a thing of the past.  You can rapidly show you have fulfilled your duty of care, and are Health and Safety compliant.
There is much more to online inductions. Think about site arrival checks and the time they could take. Arriving with a pre-registered account or ID card means a simple button click or swipe of a card and the person is on site, ready to start work. Queues dissipate, and stress levels drop, with improvements in site productivity. Tool box talks, competency checks, RAMS and permits to work can all be handled digitally as well.
In the post COVID19 days to come all organisations will need to update their procedures and protocols. Taking the administration and training online makes sense.
If you would like to explore how our services could streamline your own operations then get in touch using the form below, or call us direct.