Promoting Health and Wellbeing in the Workplace – World Health Day
The World Health Organisation's (WHO) World Health Day Campaign, aims to promote better health in all environments. Helping people better understand what this means and what services and support should be available and where. 
There are many health issues that are addressed around this day such as diseases, mental health, wellbeing and environmental risks. As well as addressing issues globally, WHO also seek to tackle these issues closer to home. Encouraging better practises and understanding at work and other day to day activities.
Finding ways to incorporate this into any environment can seem daunting. We have created a simple guide employers can use throughout the workplace, to promote safer environments, improve health & wellbeing and better health systems.
5 Steps to improve health in the workplace: –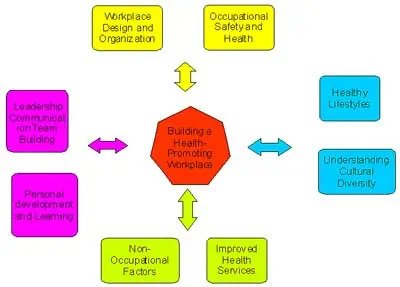 Image source WHO
1, Set A Strategic Approach
It is necessary to set goals when it comes to taking staff health seriously. Many companies good intentions lead to ineffective knee-jerk actions, for example a one-off stress management workshop or the odd wellbeing awareness day. Employees will recognise whether their employer takes the matter seriously. By following a strategy and making this a part of workplace culture you can increase employee motivation and reduce sickness & injuries.
Here are some practical goals you can set:
Proactively manage the work-related factors that could contribute to their poor mental wellbeing – resourcing, timelines, clarity of roles and change
Consider how your leadership style impacts their sense of autonomy and control
Make sure you are using tools and techniques that help maintain your own resilience
Ensure wellbeing is on the work agenda and encourage conversations with your team
2, Address Staff Health & Wellbeing 
One of the best ways that you can engage your staff around the subject of health and wellbeing is to show them why it should matter to them. Providing staff with information about the importance of physical wellbeing on site and how to maintain a good level of health enables them to make informed decisions. Read The Importance Of Health & Wellbeing In The Workplace for details on how to achieve this.
3, Talk To Your Staff
Having regular discussions with your staff is a great way to address all health and environmental safety concerns. Encourage staff to share their thoughts on how to improve safety in the workplace and better manage staff health & wellbeing.
4, Set Up A Occupation Health System
Larger sized organisations must have an adequate system in place that meets the needs of their employees and ensures a safe, healthy working environment.
5, Train Your Staff in Safety & Environmental Risks
It's always best to think about preventative measures when considering workplace health. Poorly trained or untrained employees will often lack the knowledge to use company resources properly, lack knowledge of procedures and be unaware of correct safety protocols. Having little awareness of site health and safety alone can have huge implications on your business.
See The True Cost Of Poor Training.
Mental Health training is also proving to be increasingly necessary in the workplace where more and more staff are reporting mental health issues directly linked to work.
There are many different methods of training available. We specialise in creating Online Induction systems, designed to educate staff, contractors and visitors alike in workplace health and safety matters.
Work related ill-health and injury statistics by industry: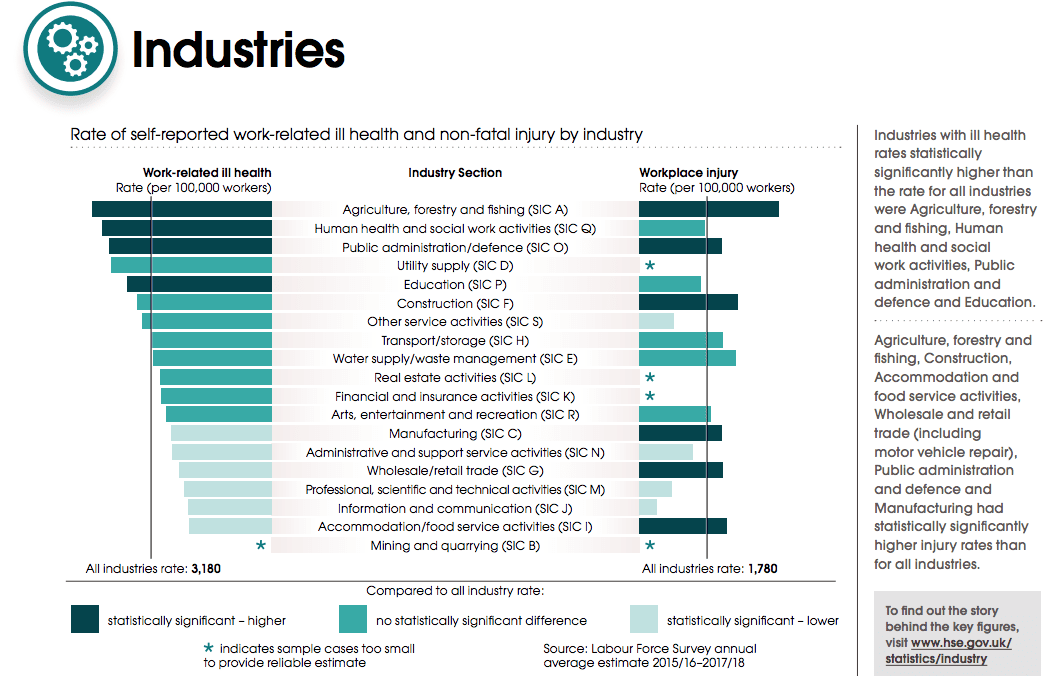 Image source HSE
Getting health & wellbeing right can improve productivity, reduce absence rates and boost morale. Getting it wrong can be costly and, in extreme situations, can result in serious injury. Make employee health & wellbeing part of your business strategy.
Is your workplace a healthy and safe one?
World Health Day 7th April.