Have you heard about our Online Induction systems?
In Summary… An online induction system can greatly improve workforce productivity with less time and money spent training by facilitators. Online induction systems can be accessed anywhere globally , store accurate reports and qualifications on all staff members and reduce any risk factors.
Why should you take your companies induction systems online?
Here are some of the reasons to take your companies induction training online:
SUITABLE FOR ALL LEARNING STYLES
CLEAR & CONSISTENT TRAINING EVERYTIME
TECHNOLOGICAL ADVANCES IN THE WORKPLACE
USES INTERACTIVITY TO ENGAGE LEARNERS
SPECIALISED DESIGNER INPUT TO MATCH YOUR COMPANIES BRANDING
ACCURATE REPORTING FUNCTIONALITIES
Further Benefits of Video Led Induction Training
Using video to train or induct staff harmonises the delivery into consistent and precise information that is easy to absorb and retain.
Question and answer sessions after each module satisfy your need to demonstrate your duty of care to your workforce with a tangible, reliable record system.
An online system can also greatly improve productivity with less time spent training by trainers and staff, our online induction systems can be accessed anywhere globally meaning staff can be inducted in their own time not yours!
Here's What We Can Do.
If you are interested in a more contemporary and staff friendly way of safely inducting your workforce, then our video led online induction system is just what you need. An Induction Portal built by Resolution Television minimises your costs and at the same time delivers faster and more effective staff training.
It's more than just another induction system. With options for eLearning, control of works, tool box talks and much more we can custom build a software system that will control all induction and training, relieving you from constantly having to repeatedly deliver sessions. All systems will be designed with your own Company Branded Custom Built Induction Portal.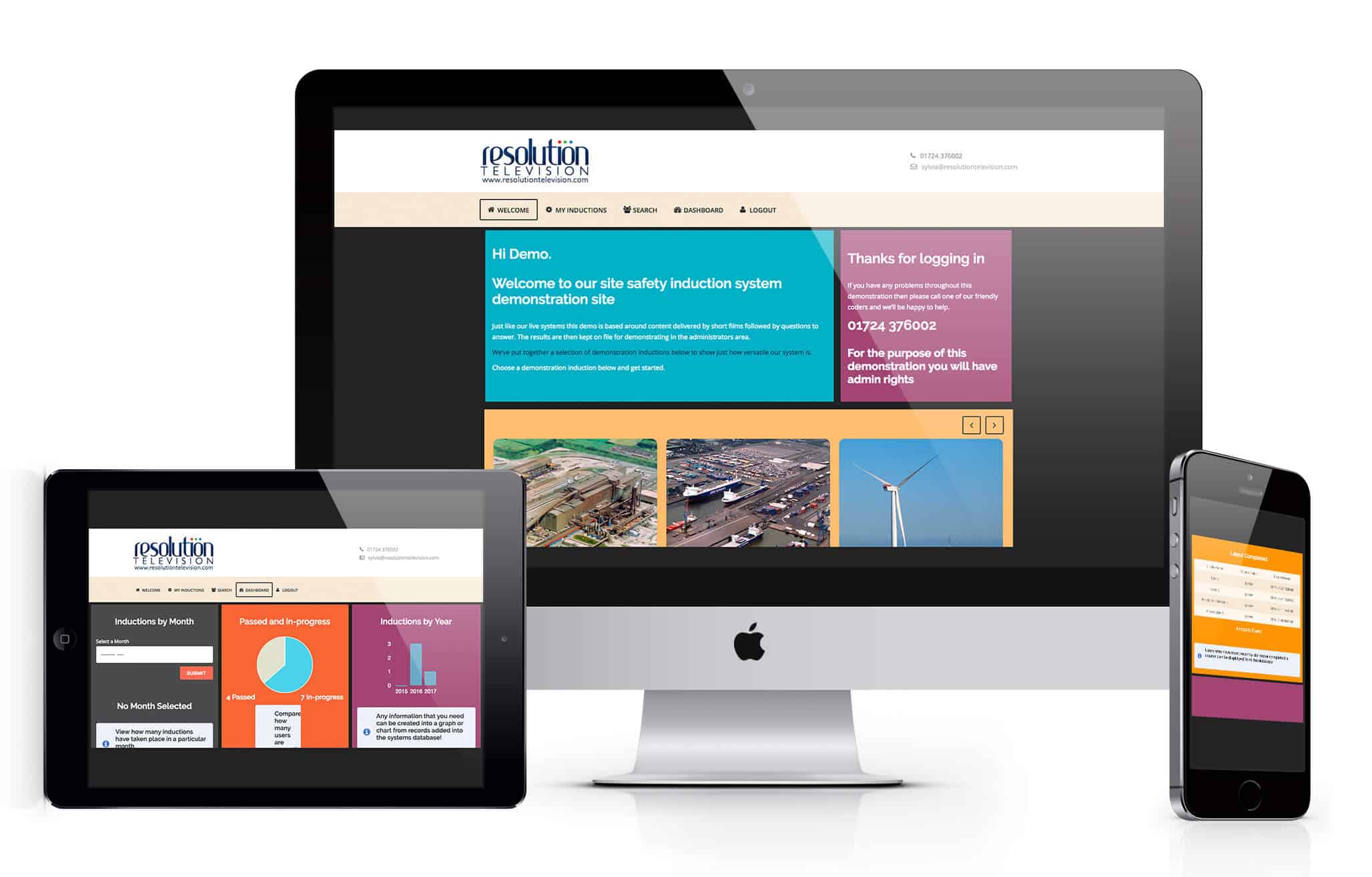 Example Mock up of how a online induction system could look for your company. Watch the short clip taken from one of our major clients Online Induction Systems. This is an brief example of how the training videos in an Induction programme could look. This uses Chroma Key to develop a virtual studio.
OR to see more Online Induction examples head over to our Youtube page.

Our Online Induction Solutions
Our specialist in house team will create a completely bespoke system tailored to suit YOUR needs.
Furthermore online induction systems present many business benefits including time, money, convenience and most importantly improvements to your workforce's health and safety awareness.
Our service includes:
Free consultations
Hardware solutions
Ongoing support
Seamless integration
Secure, dependable server
Customised Branded Induction
System design
Video Modules and Multiple Q & A Sections
Motion graphics and video effects, voice over & Music and Professional Presenter
Online records and Email Alerts
International, UK Location Filming and Studio filming
Customised Database
Multi-Language Versions and Subtitling
Find out how we can help you. Contact one of our friendly marketing advisers today on:
01724 376002
OR
NEW Finance Packages now available!
Why not spread the cost of your Online Induction or E Learning Systems?
Ask about our flexible Finance Packages.