Be data savvy – Get more from your website
So you have a website, it looks good, you have a great product but are you utilising all that data? We take a look at how you can get more from your website.
Here's our quick guide on how you can promote your website online, standout from the crowd and make the most of the information your website collects.
1. Content Marketing
Content marketing is the process of producing blog articles, videos, photos, infographics, or any other form of 'content' that appeals to your target audience, with the aim of attracting visitors to your website.
How it works
Imagine you sell clothing and the summer holiday season is approaching, to make the most of this you could write a blog post about 'What fashion is tranding this summer?' as an example.
To get the most from this article you would list the items of clothing that are popular this season and match them to similar items you stock. E.g  the floral summer dress is popular so why not show a floral summer dress you have for sale. Include good photos of all the products you mention and ensure you link to the product page where readers can buy your outfits.
How does this attract traffic and promote my website? This is the scenario your blog will help to create:- a fashion-conscious customer is looking for inspiration on what to wear this summer, they turn to Google and search for 'summer fashion' – and your article appears in the search. They then click on the article like what they see, click on the items you've recommended and start browsing and buying from your shop!
A content strategy
Before you just start writing blogs at random you should have a strategy for your content.
The most important aspect of your strategy is understanding your target audience, their interests,  their age and what content will appeal to them. Once you know who you're targeting, the next step is to plan your posts. Coming up with valuable and relevant content can be hard.
As well as a list of content ideas, add important dates to your calendar with reminders to publish relevant articles. So, a month before Christmas you might post an article like 'Perfect gift ideas for men'.
You should also think about how the content will be structured. Types of posts that work well are:
Lists: Quick reads that can be packed with products. e.g. '10 great accessories that will go with any christmas party outfit'
Informative/'how to' posts: Articles with tips or advice. e.g. 'What to wear for that all-important job interview'
Topical/relevant: Making your post topical is a great way to get people reading it. e.g. 'The best and worst outfits at the Oscars'
Amusing posts: Difficult to achieve but very likely to be shared on social media if they hit the mark. e.g '5 of the weirdest things women carrying their handbags'
Make sure you measure
Once you've got your strategy sorted and you're regularly producing content, the next thing to do is measure how well it's working.
Each month you should look at what articles generated the most traffic to your site, and which of those led to the most sales. A tool like Google Analytics is good for this.
2. Mailing List
Email marketing is the most powerful tool in your marketing kitbag. If you're not using it effectively, you're missing out on sales. Below is an example of a newsletter we have previously sent out to clients interested in our Induction systems.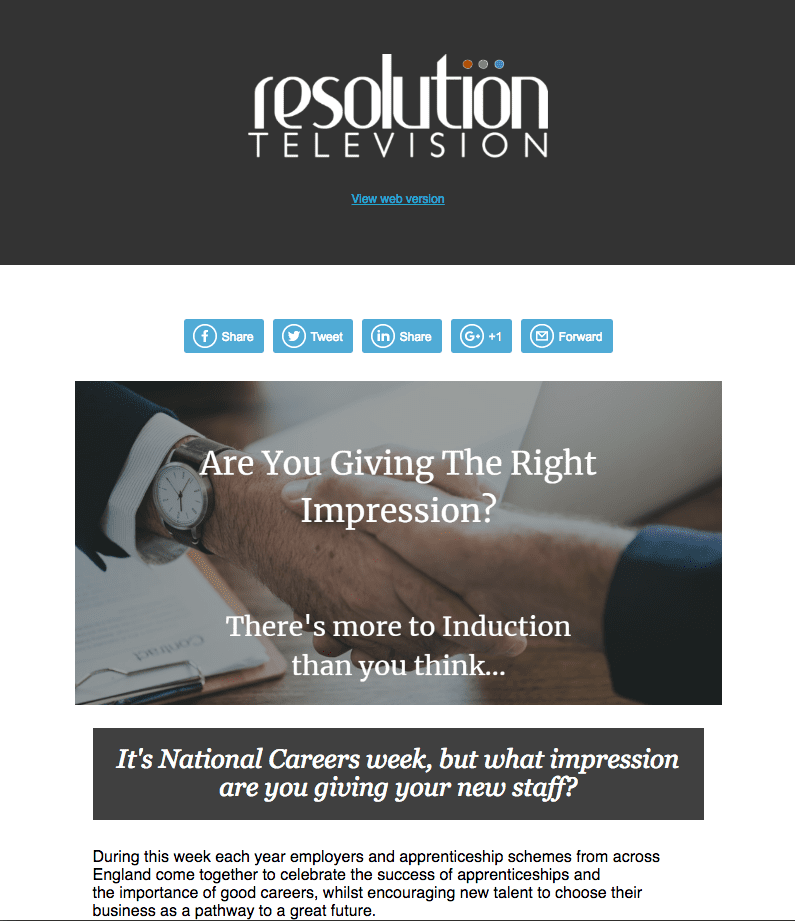 Build your mailing list
If you have a visitor on your website and they don't buy from you, the next best thing is to capture their email address.
One of the best ways to do that is to use a box with a sign-up form, ideally offering something in exchange for the visitor's email address. e.g. 'Sign up and get 10% off your next order'. Another good technique is to incorporate a sign-up field at the end of your blog posts. The idea is that, if they enjoyed reading one of your posts, they'll likely enjoy the other content you might send them. You should also offer customers the chance to join your mailing list as part of the checkout process. Make sure any data you obtain an use is in compliance with GDPR.
Using your mailing list
Once you have your email list, it's time to start using it.
Just like your content marketing strategy, it's important to have a plan for email marketing. In fact, it should simply be an extension of your content strategy.
Create a list of ideas for marketing emails, and update it frequently. You should be aiming for one email a week. Here are just some ideas:
Promote new or upcoming products
Offer discounts or promote sales
Send out relevant articles from your blog
Mix up product and non-product content so your newsletters don't always feel too sales based
Take inspiration from other brands' mailing lists – particularly those you subscribe to and read. What makes their content interesting and relevant to you?
There are a number of free email send and creation tools out there – mailchimp is a popular option, which also records email opens, click-through rates and more.
3. Social Media
If you do it right, social media can have a big impact on your sales figures. The aim of the game is getting your customers to be your brand advocates – promoting your company for you.
Where to start
The first thing to do is think about which platforms you're going to use. Typically the visual ones, like Instagram and Pinterest, work best for online shops. But Twitter and Facebook are also very important. A Shoppable Instagram, as in the Skinnydip example above, can be a great way of generating revenue for visual industries, such as fashion or homeware.
It can sometimes be useful to focus on one platform, particularly if you are limited with the amount of time you can spend.
What to post?
Just like your mailing list, your social media strategy will be closely tied into your content marketing strategy.
Our advice would be to split your posts so that only 20% is promotional. The rest being interesting content that appeals to your audience. Followers won't appreciate a constant stream of promotional messages only. They want to be informed and entertained, rather than just sold to.
Engage with your followers
As well as posting out content, it's important to get involved with conversations.
A good way to do this is to see what's trending and comment – particularly if it's something that your target audience might be interested in. It will sometimes seem off-topic to talk about current events, but it all helps give your brand personality.
Reward followers
A great way to engage people is to give something away. Typically in exchange for them posting, sharing or 'liking' something.
This might be sending a personal message when they buy something, or an exclusive discount code, or a competition.
Going back to the fashion company example, an idea might be to get people to post photos of themselves wearing your clothing and tagging your company in the post. The great thing about this is that their network of followers will all see these posts, creating a viral effect that spreads the message of your brand.  This is also known as UGC (User-Generated Content), which is great as it introduces variety in your stream without you having to invest time in creating it.
4. Pay-per click advertising / Google AdWords
Paid advertising is not always the first option for new businesses as it requires investing a fairly large amount of money each month. If you have the funds, it is a great way to generate sales and get your website on page 1 of Google search.
How it works
Pay-per-click (PPC) adverts are audience-targeted ads, typically shown in search listings and on social media websites. When someone clicks on your ad, they get taken to your website and you get charged a fee. The great thing about PPC is that you can generate a good return on your investment, and can adjust your ad spend manually to increase your revenue.
Managing your ad campaigns
Running pay-per-click marketing is a time-consuming and complicated process. Google AdWords is renowned for being difficult to use.
If you plan on running your own campaigns it would be advisable to spend plenty of time researching best practice and familiarising yourself with the keyword bidding process. It's very easy to lose money if you don't know what you're doing. There are a number of courses out there on Adwords but these can be expensive.
The alternative is to hire an agency to run your campaigns for you. They'll have the expertise and experience to make it a success.
Check out these other posts for more digital marketing advice –
10 reasons why use digital marketing
Why your business should optimise its online presence
If you have a new or existing website and would like our help to promote your businesses website, then contact our friendly team on 01724 376002 or email [email protected] and find out how we will get your business to stand out against the competition, gain more customers and increase your revenue.
Find out more about our Digital Marketing services.