Changing attitudes towards health and safety
Health & Safety in the working environment has come a long way since the 1974 Health and Safety at Work Act was first introduced. Best practice and shared learning help to drastically reduce the incidence of accidents and deaths.
But how far have we yet to go in influencing people in adopting a more positive attitude to Health and safety at work? Changing attitudes is vitally important, everyone within an organisation should do all they can to improve health and safety performance.
Your companies role in improving health and safety performance…
Everyone else will follow your example, so it's crucial that you get it right. You don't just carry out procedures; you are responsible for devising and implementing them. Therefore it's down to you to take the lead in promoting a safe on site culture to influence behaviour change.
Employees also have a duty to ensure their own, and others', health and safety. This is achieved by using equipment safely, wearing appropriate protective clothing, and reporting any problems to their employer.
Also see The importance of health and wellbeing in the workplace.
Getting started…
Changing the safety culture within a company will be different for every organisation. As a basic starting point the following should be reviewed first:
Ensure full commitment and involvement from both management, employees and contractors
Create a gap analysis of your companies entire safety system
Appoint a designated health and safety employee
Assess your workforces current health and safety training and compliance
Assess and update existing health and safety tools, systems and standards
Sustainability – continuous improvement plan – reassess, measure and adjust
Five key stages to assess workplace safety culture: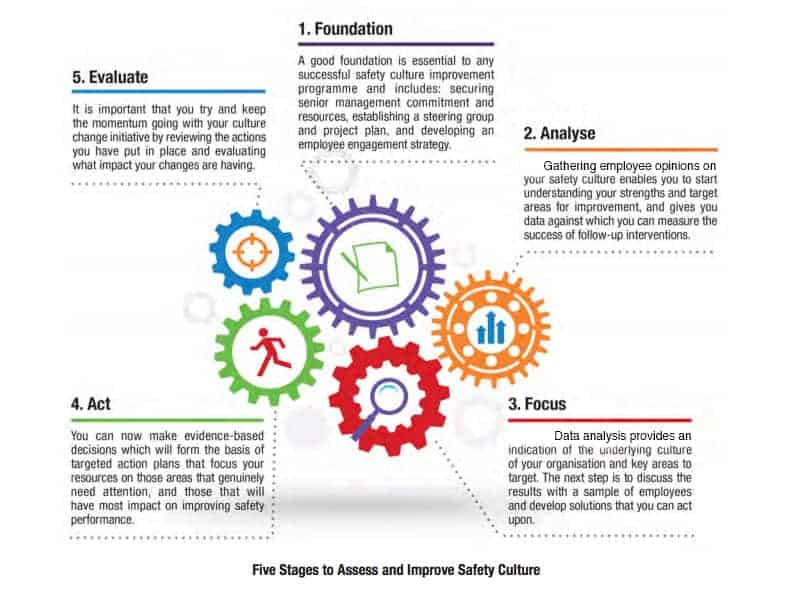 Image source – HSE
Here are some key points all employers must understand in order to ensure a safe working environment and change attitudes: –
The Health and Safety at Work Act 1974 underpins everything, providing a standard and a framework for behaviour and best practices. Employers must ensure their employees' health and safety by providing a safe working environment with the appropriate systems, equipment, procedures, training and supervision.
As an employer you possess considerable knowledge of hazards and risks. Electricity, working at height, and excessive noise are just three examples of hazards that might be encountered in the workplace. Appropriate protection should be in place and any unplanned site risks must be assessed with suitable contingencies in place.
Accidents often occur because of unsafe acts, which lead to unsafe conditions. Knowing about the causes of accidents enables you to combat the relevant behaviour and thereby reduce unsafe acts and conditions.
Attitude and behaviour policies
An organisation may have policies and procedures in place, but health and safety performance will not improve if staff are engaging in unsafe behaviours. Therefore it is vital to involve all employees in every aspect of health and safety, and provide them with suitable training and a safe working environment.
Undertaking safety culture improvements shows your commitment to the wellbeing of your staff but also offers other benefits:
Accelerated safety culture improvement
Reduced accident and injury rates
Increased employee productivity
Better workplace morale and staff retention
Improved organisational reputation
Greater competitive edge
How do you motivate your staff to change their attitudes?
Investing time, money and resources to influence and change behaviours is the next step towards creating a positive culture where everyone plays their part as safety leaders to ensure an incident free workplace.
A combination of increased employee engagement and company commitment to health and safety training leads to significant changes in organisational culture which delivers measurable improvements in safety performance. See Promoting Health and Wellbeing in the Workplace.
Safety Culture is probably one of the most important aspects of safety management, and probably the most difficult to implement. Proactive management of health and safety is delivered with programmes of health and safety competence and awareness training. Whether you are a safety professional, supervisor, manager or an employee of a company, you need to consider the importance of creating a strong safety culture within your Organisation.
Many organisations nowadays turn to Online Induction Systems to help improve their on site safety and staff training. Induction and Training systems can be accessed anywhere by employees or site contractors and are easily implemented across multiple sites. Additionally these systems have a fully integrated database to help you keep track of your employees and visitors training and induction records.